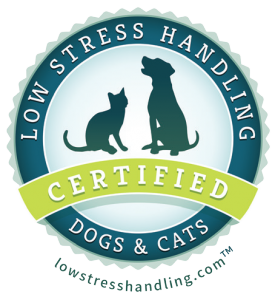 The Canine Center is proud to be a certified Low Stress Handling clinic. We are the only certified clinic in a 100 mile radius.
The staff is trained on different handling methods to decrease the anxiety of your dog during the exam and treatment process. The staff can also assist with behavior modification for common dog related behavioral issues.
The Canine Center is an American Animal Hospital Association (AAHA) certified facility.
To become accredited, companion animal hospitals undergo regular comprehensive evaluations by AAHA veterinary experts who evaluate the practice on approximately 900 standards of veterinary care. This accreditation is voluntary in the veterinary profession and shows our dedication to providing the best care and service to our clients.