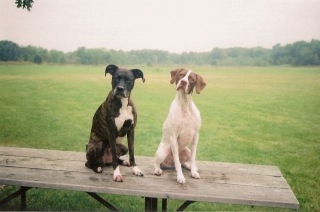 The Canine Center opened in early 2005 and is run by Dr. Christina Barcus. She is a graduate of Tufts University and has 5 years of experience in emergency and critical care prior to opening her own practice. Dr. Barcus believes in treating her patients as she would her own dogs and works to prevent problems rather than reacting to them. Dr. Barcus trains and occasionally competes in agility with her dogs. In her spare time she likes to run and bike.
Clients are seen by appointment only. We have morning, evening, and weekend appointments available and strive to see our patients in a timely fashion.
We value communication with our clients and provide several ways to do so. Please feel free to call, e-mail, or use our app to reach us with any questions or concerns. For urgent matters please call to assure your problem is addressed quickly. If you do not wish to receive e-mail and/or texts from us please let us know your preferences.
Payment in full is expected at the time services are rendered. The Canine Center accepts major credit cards (Visa, Mastercard, and Discover), debit cards, and cash. Checks are accepted for established clients with a photo ID.
Missed Appointment Policy
The Canine Center calls the day before scheduled appointments as a courtesy. A missed appointment fee will be charged for owners that fail to notify us in advance that they can not make the appointment or fail to keep their appointment. Before another appointment can be scheduled this fee needs to be paid.